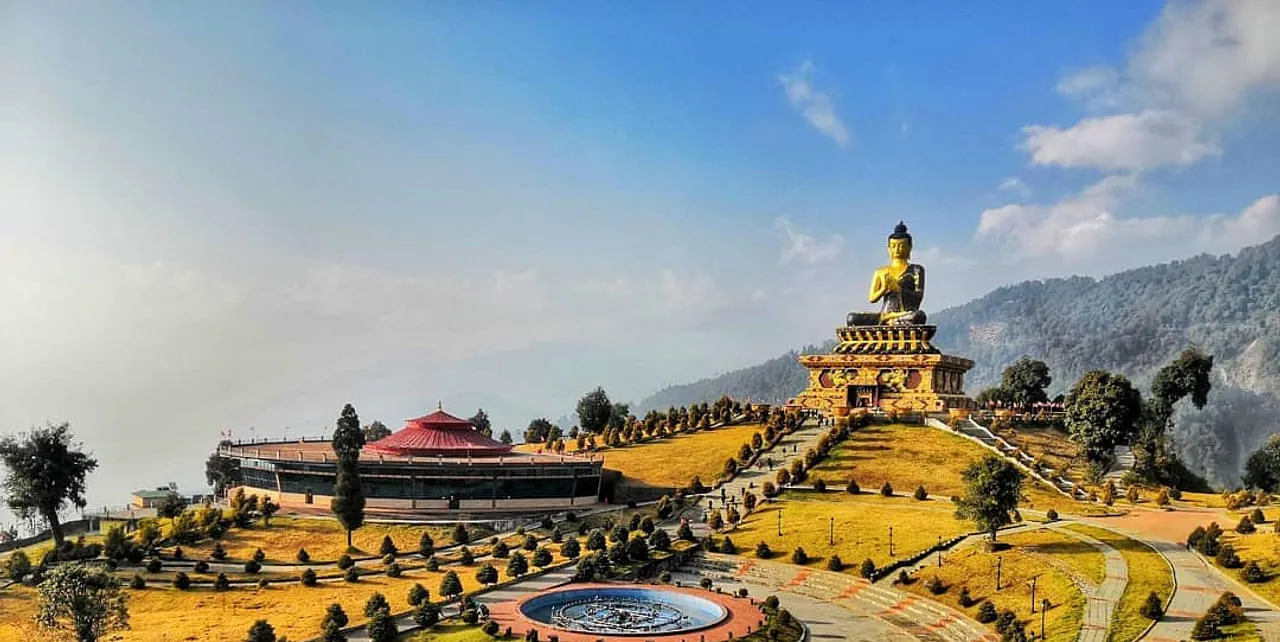 Gangtok, the capital city of the northeastern Indian state of Sikkim, is a paradise for nature lovers and adventure enthusiasts. Nestled in the lap of the majestic Himalayas, Gangtok offers a unique blend of natural beauty and cultural heritage. Its picturesque landscapes, serene monasteries, and vibrant markets make it a popular tourist destination. In this article, we will take you on a journey to explore Gangtok's top 10 tourist places, each offering its own charm and allure.
Tsomgo Lake - A mesmerizing high-altitude lake
One of the most enchanting places to visit in Gangtok is Tsomgo Lake, also known as Changu Lake. Situated at an altitude of 12,313 feet, this breathtaking lake is surrounded by snow-capped mountains and offers a stunning view of the surrounding landscapes. The lake remains frozen during the winter months, adding to its ethereal beauty. Visitors can enjoy a peaceful walk along the lake, take a pony ride, or simply soak in the tranquility of the surroundings. It is advisable to check the weather conditions before planning a visit as the lake is sometimes inaccessible due to heavy snowfall.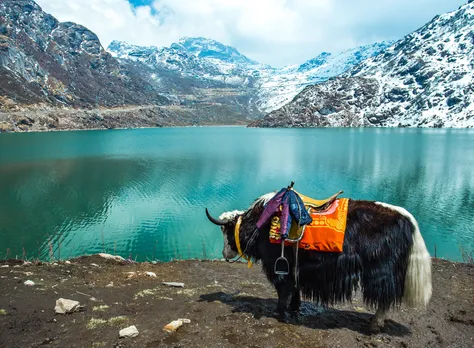 Nathula Pass - A historic trade route between India and China
For history enthusiasts, a visit to Nathula Pass is a must. Located at an altitude of 14,140 feet, this mountain pass was once an important trade route between India and China. Today, it serves as a border crossing between the two countries. The pass offers breathtaking views of the snow-clad peaks and is surrounded by rugged terrain. Visitors can explore the historic war memorial, enjoy the cool mountain breeze, and even spot some wildlife in the area. Please note that a special permit is required to visit Nathula Pass, and it is advisable to check the permit requirements and timings in advance.
Rumtek Monastery - The largest monastery in Sikkim
Rumtek Monastery, also known as the Dharma Chakra Centre, is one of the largest and most important monasteries in Sikkim. Located approximately 23 kilometers from Gangtok, this magnificent monastery is a center for Buddhist study and meditation. The monastery's intricate architecture, vibrant colors, and serene atmosphere create a truly immersive experience for visitors. Inside the monastery, you can find ancient Buddhist scriptures, exquisite murals, and statues of deities. The monastery also houses a Golden Stupa, which contains the relics of the 16th Karmapa, the head of the Kagyu sect of Tibetan Buddhism.
Enchey Monastery - A serene Buddhist monastery with stunning views
Enchey Monastery, located on a hilltop in Gangtok, is another must-visit destination for those seeking spiritual solace and tranquility. Surrounded by tall pine trees, this serene monastery offers panoramic views of the Kanchenjunga range. The monastery is believed to be over 200 years old and is dedicated to Guru Padmasambhava, the patron saint of Sikkim. Inside, you can find beautiful murals, thangkas, and statues of Buddhist deities. The monastery also hosts an annual religious dance festival, known as "Chaam," which attracts visitors from far and wide.
Ganesh Tok - A hilltop temple dedicated to Lord Ganesha
Perched on a hilltop, Ganesh Tok is a small temple dedicated to Lord Ganesha, the elephant-headed Hindu deity. The temple offers panoramic views of Gangtok and the surrounding mountains. To reach the temple, visitors have to climb a flight of stairs adorned with colorful prayer flags. The tranquil atmosphere and the breathtaking views make Ganesh Tok a perfect spot for meditation and introspection. Visitors can also seek blessings from the resident priest and offer prayers to Lord Ganesha.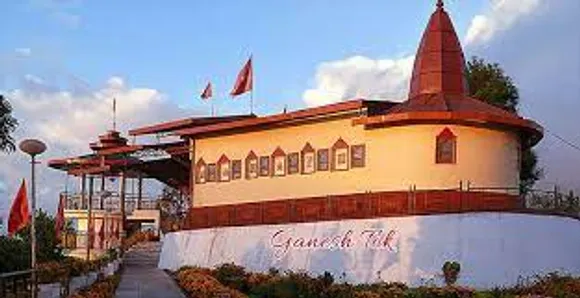 Hanuman Tok - A peaceful temple with panoramic views of Gangtok
Hanuman Tok is another hilltop temple located in Gangtok, offering panoramic views of the city. Dedicated to Lord Hanuman, the temple is known for its peaceful ambiance and spiritual significance. To reach the temple, visitors have to climb a flight of stairs lined with beautiful flowers and prayer flags. The temple complex also houses a larger-than-life statue of Lord Hanuman. It is a popular spot for locals and tourists alike to seek blessings, offer prayers, and enjoy the serene surroundings.
Tashi Viewpoint - A popular spot to admire the beauty of the Kanchenjunga range
Situated approximately 8 kilometers from Gangtok, Tashi Viewpoint offers a mesmerizing view of the majestic Kanchenjunga range, the third highest mountain peak in the world. The viewpoint, named after the late Tashi Namgyal, the former king of Sikkim, provides a perfect vantage point to admire the snow-capped peaks and the lush green valleys. Visitors can also enjoy a cup of hot tea or coffee from the nearby stalls while soaking in the breathtaking scenery. Tashi Viewpoint is especially popular during sunrise and sunset, when the colors of the mountains change dramatically.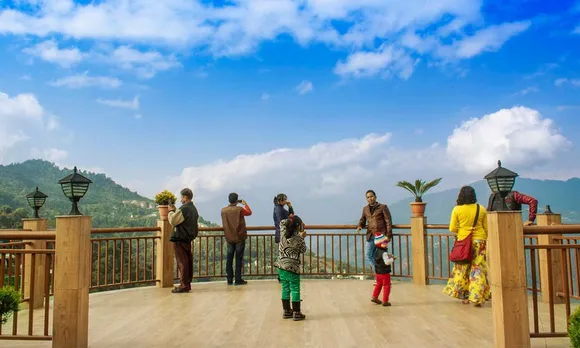 MG Marg - Gangtok's vibrant and lively shopping and dining hub
MG Marg, the main street of Gangtok, is a vibrant and lively hub for shopping, dining, and entertainment. This pedestrian-only zone is lined with shops, cafes, restaurants, and boutiques, offering a wide variety of local and international products. Visitors can stroll along the beautifully landscaped street, indulge in some retail therapy, savor delicious local delicacies, or simply soak in the lively atmosphere. MG Marg also hosts various cultural events and festivals throughout the year, adding to its charm.
Do Drul Chorten - A striking stupa with intricate Buddhist carvings
Do Drul Chorten, located near the Research Institute of Tibetology in Gangtok, is a striking stupa adorned with intricate Buddhist carvings. This peaceful place of worship is a popular destination for both locals and tourists seeking spiritual solace. Inside the stupa, you can find numerous prayer wheels, each inscribed with sacred Buddhist mantras. Visitors can spin the prayer wheels in a clockwise direction, believing that it brings good luck and positive energy. Do Drul Chorten is also home to a beautiful golden statue of Guru Padmasambhava.


Banjhakri Falls and Energy Park - A natural waterfall surrounded by lush greenery
Located approximately 7 kilometers from Gangtok, Banjhakri Falls and Energy Park is a natural waterfall surrounded by lush greenery. This picturesque spot offers a serene escape from the bustling city life. The park features beautifully landscaped gardens, traditional huts, and sculptures depicting the shamanic culture of the Lepcha tribe. Visitors can enjoy a leisurely walk through the park, admire the cascading waterfall, and even indulge in some adventure activities such as ziplining and rock climbing.
Conclusion
Gangtok's top 10 tourist places offer a unique blend of natural beauty and cultural heritage. From the mesmerizing Tsomgo Lake to the historic Nathula Pass, each destination has its own allure and charm. Whether you are a nature lover, a history enthusiast, or a spiritual seeker, Gangtok has something to offer for everyone. So, pack your bags and embark on a journey to explore the enchanting beauty of Gangtok and create memories that will last a lifetime.