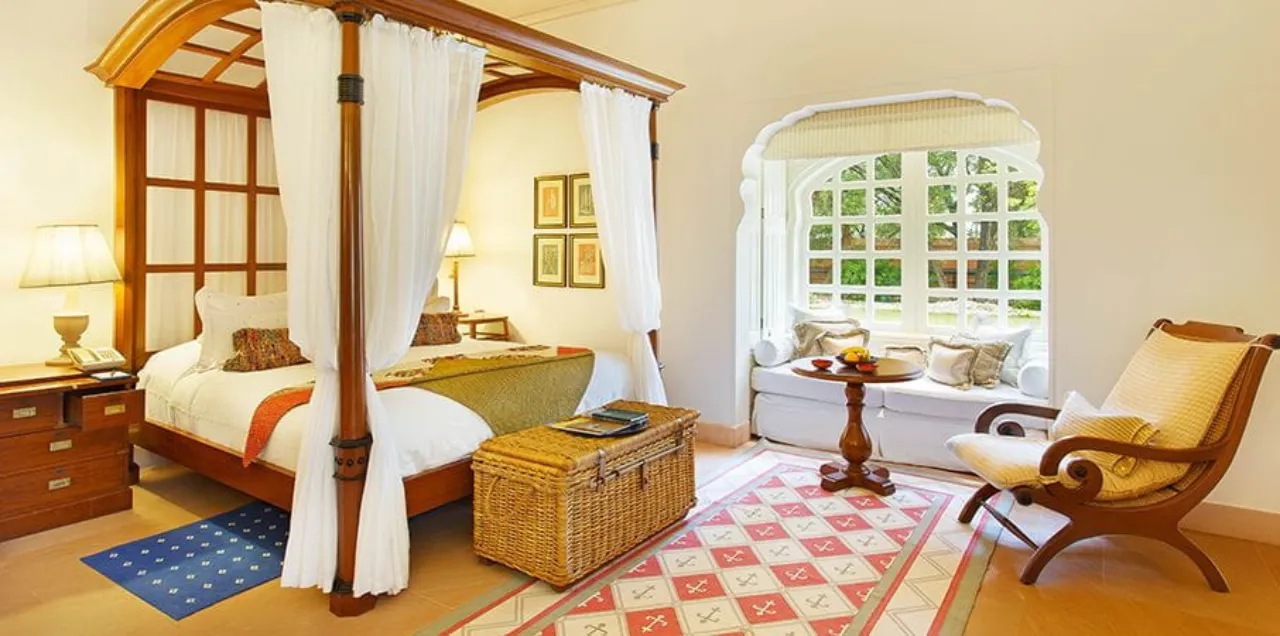 Jaipur, the Pink City of India, is known for its majestic forts, palaces, rich culture, and old-world charm. It attracts honeymooners, families, couples, and solo travelers from all over the world. To cater to the diverse tastes of travelers, Jaipur offers a wide range of resorts that exude grandeur and luxury. These resorts boast traditional Rajputana architecture, delicious culinary delights, and breathtaking landscapes. In this article, we have compiled a list of the best resorts in Jaipur that offer a memorable and regal staycation experience.
Oberoi RajVilas: A Regal Retreat
Regal is the word that best describes Oberoi RajVilas, a magnificent resort that epitomizes the princely Rajasthan. Spread over thirty-two acres of meticulously manicured lawns and buildings, this luxury resort is adorned with thick foliage, indigenous flowers, and exotic birdlife. The resort offers an array of luxurious amenities, including an Elephant Safari, gourmet meals at Charbagh overlooking the tiered garden, cooking sessions at the Rajmahal restaurant, and Rajasthani block printing lessons. The tariff for a night's stay starts at INR 39,000 onwards.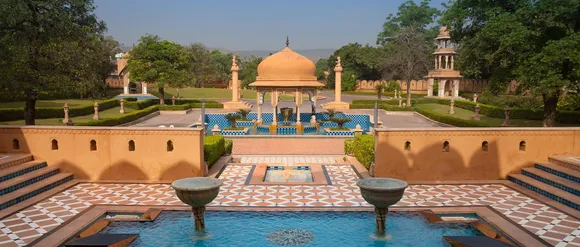 Lebua Resort: Where Luxury Meets Mysticism
Inspired by the celestial gems, Lebua Resort is an all-suite resort that combines the mysticism of the historic past with the sensibilities of the present. This vibrant resort offers unique recreational activities like kite flying, elephant polo, camel and horse riding, croquet, and countryside bicycling. The Chakra Bar, with its mist fountain recreating the night sky, is a must-visit at this one of the best resorts in Jaipur. The tariff for a night's stay starts at INR 7,500 onwards.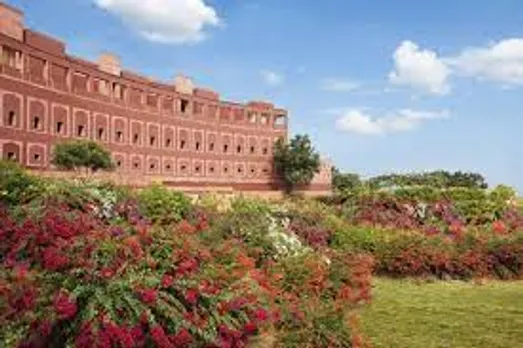 Tree of Life Resort & Spa: A Serene Oasis
Nestled amidst the verdant surroundings of the Aravalli ranges, Tree of Life Resort & Spa is a unique cluster of 14 luxury villas. Each villa is named after an Indian tree, and the interiors reflect the color of the flower the tree bears. The resort offers breathtaking views from the high open-air sit-out ridge, a bell-shaped infinity pool, and unique cooking experiences with the chef. Guests can also enjoy a ride in a vintage Willys Jeep into the local village or teach at the local school supported by the Tree of Life. The tariff for a night's stay starts at INR 11,000 onwards.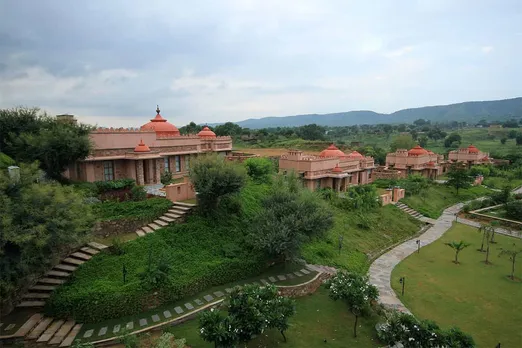 ITC Rajputana: Grandeur and Opulence
Designed to resemble the opulent Havelis of Rajasthan, ITC Rajputana is a top resort in Jaipur. The resort features long corridors, decorated courtyards, and traditional Rajasthani décor. Guests can indulge in authentic Rajasthani cuisine at the iconic Jal Mahal restaurant and savor delectable North-Western specialties at the Peshawri. The Kaya Kalp Spa offers rejuvenating spa treatments, and guests can enjoy a range of recreational activities, from croquet to water polo. The tariff for a night's stay starts at INR 6,500 onwards.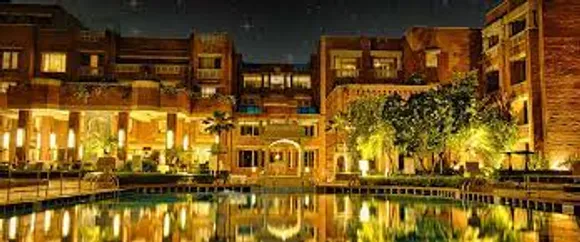 Trident: A Palatial Retreat
Trident, located a short distance away from Amber Fort, offers a beautiful view of the Mansagar lake and Jal Mahal. This palatial resort features 132 well-appointed rooms and suites, each with a "jharokha" to take in the sprawling gardens, the Aravali hills, and the lake. Guests can rejuvenate themselves at the Trident Spa, relax on the decks by the poolside, and spend quality time with their little ones at the kids club. The tariff for a night's stay starts at INR 7,300 onwards.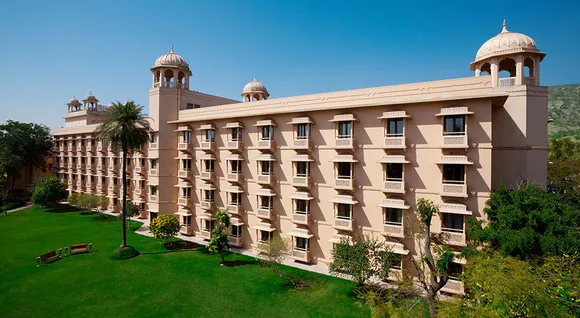 The Tree House Resort: A Unique Experience
The Tree House Resort is one of the few resorts in the world that offer luxury treehouses and over-water suites. The accommodations, aptly named "Nests," provide a surreal experience with live branches of trees running through them. Guests can enjoy a jungle safari, indulge in recreational activities like archery and tennis, and relax with Taruveda, bird watching, and movie setups. The tariff for a night's stay starts at INR 20,000.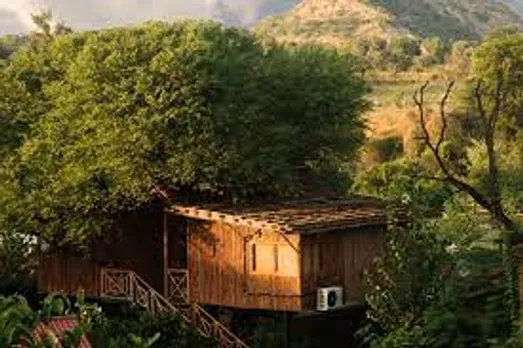 Chokhi Dhani Resort: A Taste of Rajasthan
Chokhi Dhani Resort offers an authentic Rajasthani experience, with its vibrant colors, traditional architecture, mouthwatering food, and cultural performances. Guests can choose from a range of dining experiences, including a traditional sit-down meal while witnessing typical Rajasthani performances. The resort also offers a village safari to nearby Kookas to experience village life and indulge in activities like pottery and cooking. The tariff for a night's stay starts at INR 7,500 onwards.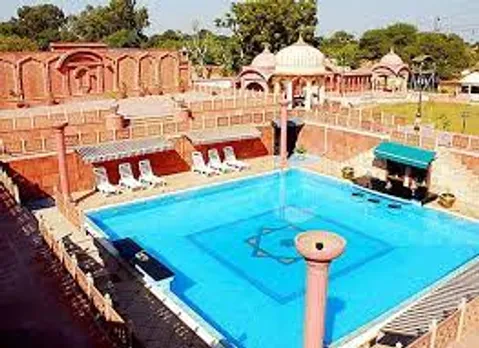 Sunrise Health Resort: A Naturopathy Retreat
Sunrise Health Resort is a first-of-its-kind Naturopathy Resort that offers a multitude of treatments for the tired soul. The resort features a water park for all-around recreation, live dances and folk performances, and an excellent amphitheater for open-air live stagings. The tariff for a night's stay starts at INR 3,500 onwards.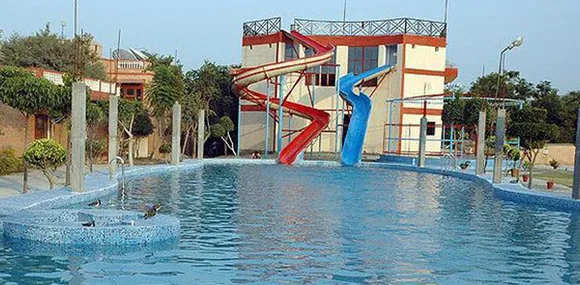 Pride Amber Vilas: A Royal Village Experience
Pride Amber Vilas is a perfect re-creation of Rajasthani villages at their best. The resort offers an old-style step-well-like swimming pool, a well-equipped health club, and an excellent open-air rural setting to savor mouth-watering Rajasthani cuisine. The tariff for a night's stay starts at INR 5,000 onwards.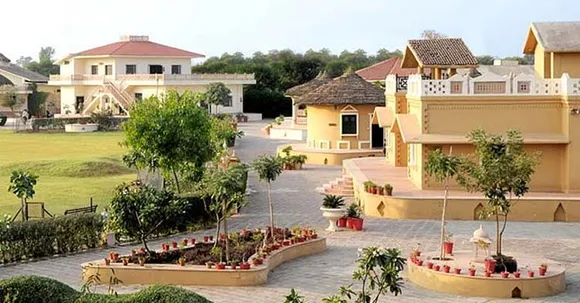 Conclusion
Jaipur, with its rich history and culture, offers a range of luxurious resorts that provide a regal and unforgettable staycation experience. From the Oberoi RajVilas to the Pride Amber Vilas, each resort offers unique amenities and a taste of Rajasthani hospitality. Whether you're looking for a retreat in nature or a resort that captures the essence of Rajasthan, these best resorts in Jaipur are sure to leave you spellbound. So, plan your next vacation to the Pink City and indulge in the grandeur and luxury that these resorts have to offer.