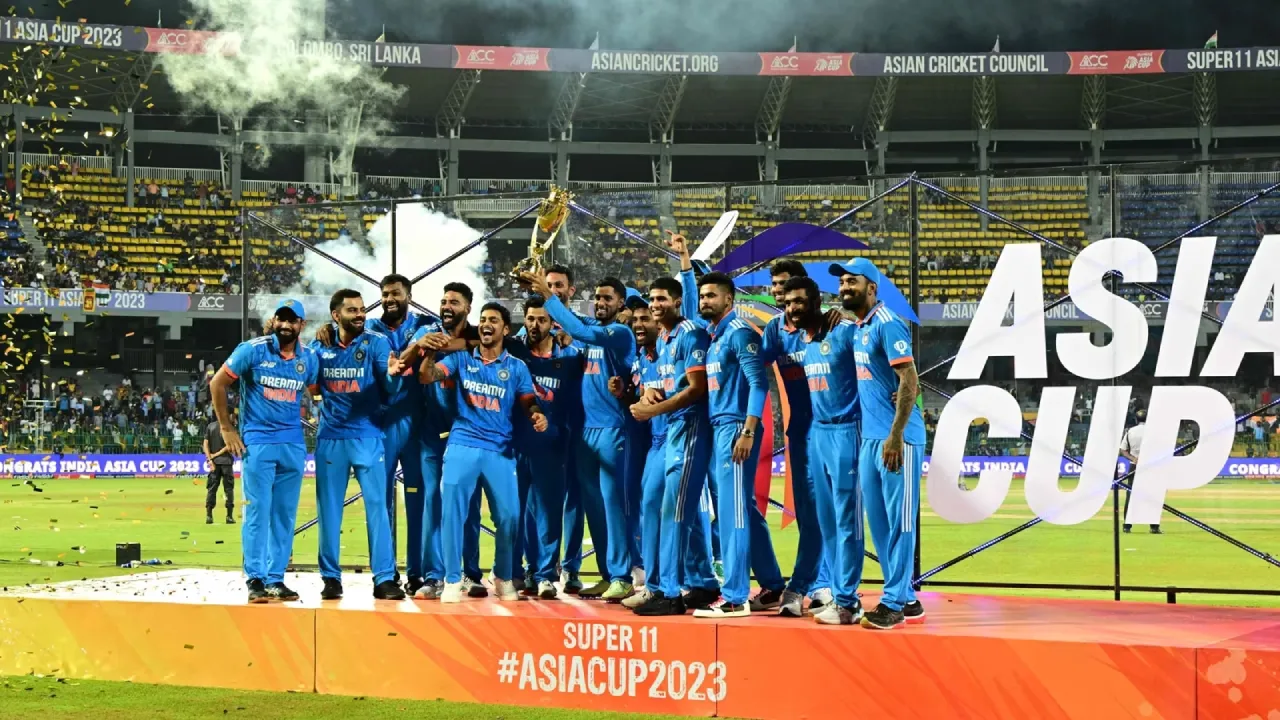 The Asia Cup 2023 Final witnessed a dominant performance by Team India, as they secured their eighth title with a resounding 10-wicket victory over Sri Lanka. The match, held at the Premadasa Stadium, showcased exceptional bowling and batting prowess from the Indian team, leaving their opponents in awe. In this article, we will delve into the highlights of the match, the key players' contributions, and the significance of this victory for Team India.

Also Read Asia Cup 2023 India vs Sri Lanka Final Match Highlights

India's Remarkable Bowling Display
The match began with Sri Lanka winning the toss and electing to bat first. However, their decision quickly backfired as the Indian bowlers wreaked havoc on their batting lineup. Mohammed Siraj, in particular, delivered a sensational spell, picking up a five-wicket haul in just his second over. Jasprit Bumrah started the onslaught by taking a wicket off the third ball of the match. Siraj then took over, demolishing the Sri Lankan batting order with four wickets in the fourth over alone. His exceptional swing and accuracy left the Sri Lankan batsmen clueless and struggling to score runs.
Siraj's brilliance continued as he dismissed Sri Lanka captain Dasun Shanaka, completing his five-wicket haul in just his second over. With Sri Lanka reeling at 12/6 in 5.4 overs, the nightmare continued for the home side. Hardik Pandya also made a significant contribution, taking three wickets and wiping off the Sri Lankan innings with two back-to-back wickets in the 16th over. Sri Lanka were eventually bowled out for a paltry 50 runs, their second-lowest score ever in ODIs.

Also Read Mohammed Siraj's Sensational Spell of 6 Wickets
India's Clinical Chase
Chasing a meager target of 51 runs, India opened their innings with Ishan Kishan and Shubman Gill. The duo displayed excellent batting skills and wasted no time in taking the attack to the Sri Lankan bowlers. They put on a quickfire 32-run partnership in just three overs, setting the tone for an emphatic victory. Both Kishan and Gill showcased their aggressive batting techniques and dispatched the Sri Lankan bowlers to all parts of the ground.
India's openers continued their onslaught and chased down the target in just 6.1 overs, without losing a single wicket. Gill and Kishan's unbeaten partnership of 50 runs ensured a comprehensive 10-wicket victory for India, with a staggering 263 balls to spare. The Indian team's dominant performance in the final showcased their superior skills and determination.


The Significance of India's Eighth Asia Cup Title
This victory holds immense significance for Team India as it marks their eighth title in the Asia Cup tournament. The team's consistent performances throughout the tournament, coupled with their exceptional display in the final, have established them as a force to be reckoned with in the cricketing world. India's triumph in the Asia Cup serves as a strong statement ahead of the upcoming World Cup, which they will be hosting.
The Indian team's success can be attributed to their talented lineup and the depth of their squad. Throughout the tournament, players like Rohit Sharma, Shubman Gill, Virat Kohli, Ishan Kishan and KL Rahul showcased their batting prowess, while bowlers like Jasprit Bumrah, Mohammed Siraj, and Kuldeep Yadav displayed their skill and accuracy. The team's collective effort and consistent performances have set a high standard for themselves and their opponents.


Looking Ahead: The World Cup and Beyond
With the World Cup on the horizon, Team India's victory in the Asia Cup has provided them with a significant boost of confidence. The team's consistent performances in this tournament have highlighted their strengths and identified areas for improvement. India's bowling attack, led by Jasprit Bumrah and Mohammed Siraj, has proven to be a formidable force, capable of dismantling any batting lineup. The batting lineup, led by experienced players like Virat Kohli and KL Rahul, has displayed resilience and adaptability, making them a formidable force in the upcoming World Cup.
As India prepares to host the World Cup, the team's stellar performance in the Asia Cup serves as a warning to their opponents. Their depth in both batting and bowling, coupled with their strong team spirit, makes them a force to be reckoned with. The victory in the Asia Cup not only adds to India's illustrious cricketing history but also sets the stage for a thrilling and competitive World Cup.
In conclusion, Team India's remarkable victory in the Asia Cup Final reaffirms their status as a dominant force in world cricket. Their clinical display of bowling and batting skills showcased their exceptional talent and determination. As they set their sights on the upcoming World Cup, the Indian team will be looking to carry their winning momentum and build on their success. With a strong squad and a winning mindset, India is poised to make a strong impact in the cricketing world.