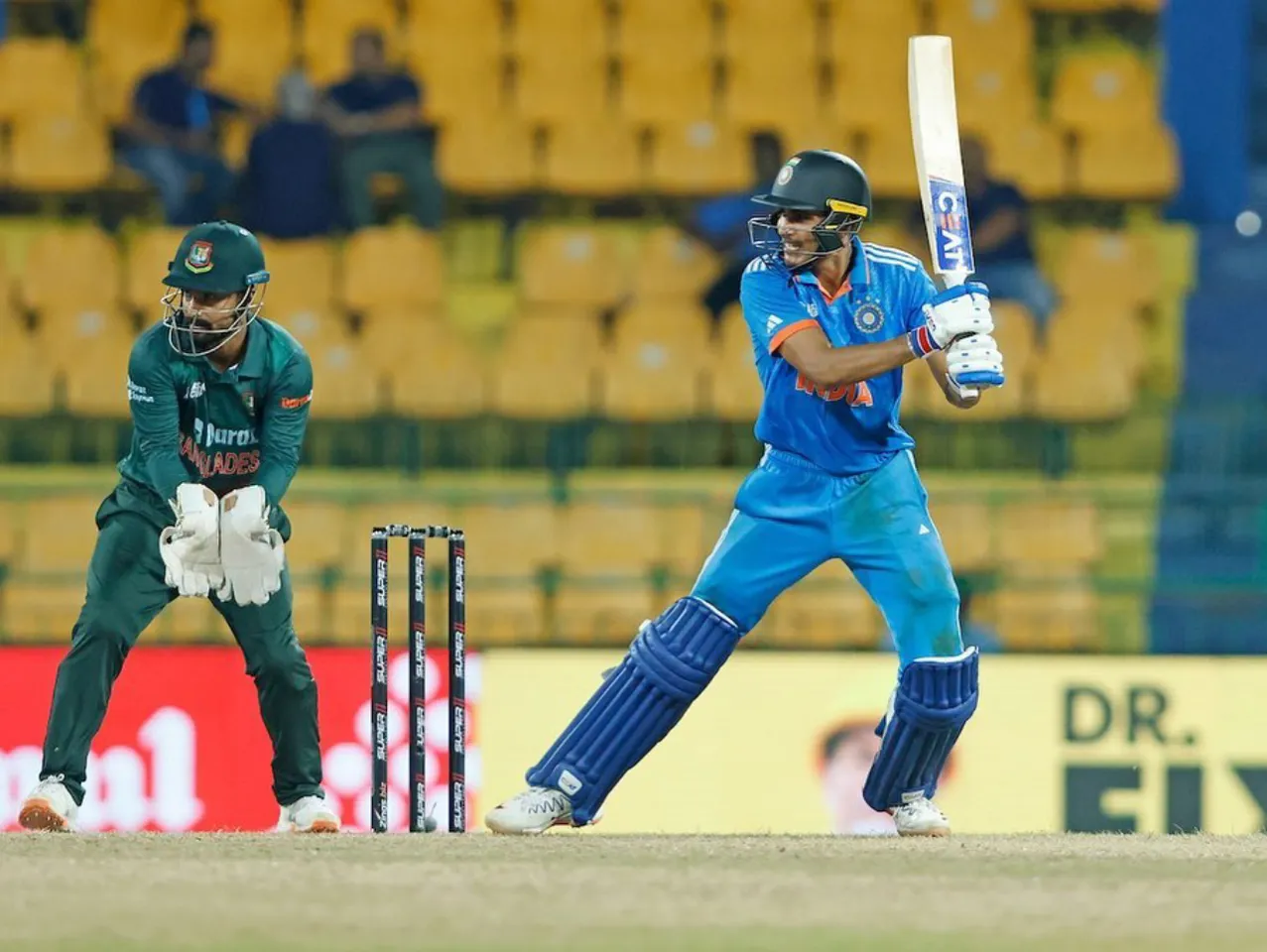 Shubman Gill, the talented Indian opener, set a massive world record with his stunning century against Bangladesh in the 2023 Asia Cup. Gill's outstanding performance not only showcased his immense skill and temperament but also etched his name in the annals of cricket history. In this article, we will delve into the details of Gill's extraordinary achievement, analyzing his record-breaking innings and its significance in the realm of ODI cricket.
Also Read Highlights from Asia Cup 2023 India vs Bangladesh Super Fours


Gill's Unforgettable Century
In a thrilling encounter between India and Bangladesh, Gill's remarkable knock of 121 runs in 133 balls stood out as a beacon of brilliance amidst a challenging chase. Despite India's eventual six-run defeat, Gill's century left an indelible mark on the match. His innings was a testament to his unwavering determination and exceptional batting prowess.


A World Record in the Making
Gill's century not only propelled India's fightback but also secured him a unique place in the history of ODI cricket. With a total of 1712 runs in just 32 innings, Gill surpassed the previous record held by the legendary South African batsman, Hashim Amla. Amla had amassed 1650 runs after the same number of innings, making Gill's achievement even more remarkable.


Most Runs After 32 ODI Innings
Let's take a closer look at the top five batsmen who have scored the most runs after 32 ODI innings:


|   Player |   Team |   Runs |
| --- | --- | --- |
|   Shubman Gill |   IND |   1712 |
|   Hashim Amla |   SA |   1650 |
|   Babar Azam |   PAK |   1558 |
|   Ryan Ten Doeschate |   Dutch-SA |   1541 |
|   Jonathan Trott |   SA-English |   1510 |

Gill's accomplishment places him at the pinnacle of this esteemed list, solidifying his reputation as one of the brightest young talents in the cricketing world.
Also Read Shubman Gill's Spectacular Centuries in 2023


Gill's Remarkable ODI Career
Gill's stellar performance in the Asia Cup is just one highlight in his phenomenal ODI career. With an average of 63.41, Gill has amassed an impressive tally of 1712 runs, including five centuries and eight half-centuries. His consistency and ability to convert starts into substantial scores have made him an invaluable asset to the Indian cricket team.


The Significance of Gill's Record
Gill's record-breaking century not only signifies his individual brilliance but also highlights the immense potential of young cricketers in the modern era. His achievement serves as an inspiration for aspiring batsmen around the world, proving that age is no barrier to success. Gill's meteoric rise in international cricket has captivated fans and experts alike, cementing his place as a future superstar.


Gill's Impact on Indian Cricket
As Gill's reputation continues to soar, his contributions to Indian cricket become increasingly apparent. His ability to perform under pressure and adapt to different match situations make him a vital cog in the Indian batting lineup. With the 2023 World Cup on the horizon, Gill's red-hot form and consistency provide India with a solid foundation at the top of the order.


The Road Ahead
Gill's incredible feats at such a young age suggest that he has a long and illustrious career ahead of him. As he continues to refine his skills and gain experience, the cricketing fraternity eagerly awaits his future performances. With each match, Gill has the opportunity to further etch his name in the history books and contribute to India's success on the international stage.
Also Read Shubman Gill's 5th ODI Century against Bangladesh


Conclusion
Shubman Gill's record-breaking century against Bangladesh in the 2023 Asia Cup will forever be etched in the memories of cricket fans. His remarkable achievement of surpassing Hashim Amla's record for the most runs after 32 ODI innings showcases his immense talent and potential. Gill's consistency and ability to perform under pressure make him a valuable asset to the Indian cricket team. As he continues to make strides in his career, Gill is poised to become one of the most formidable batsmen in the world.