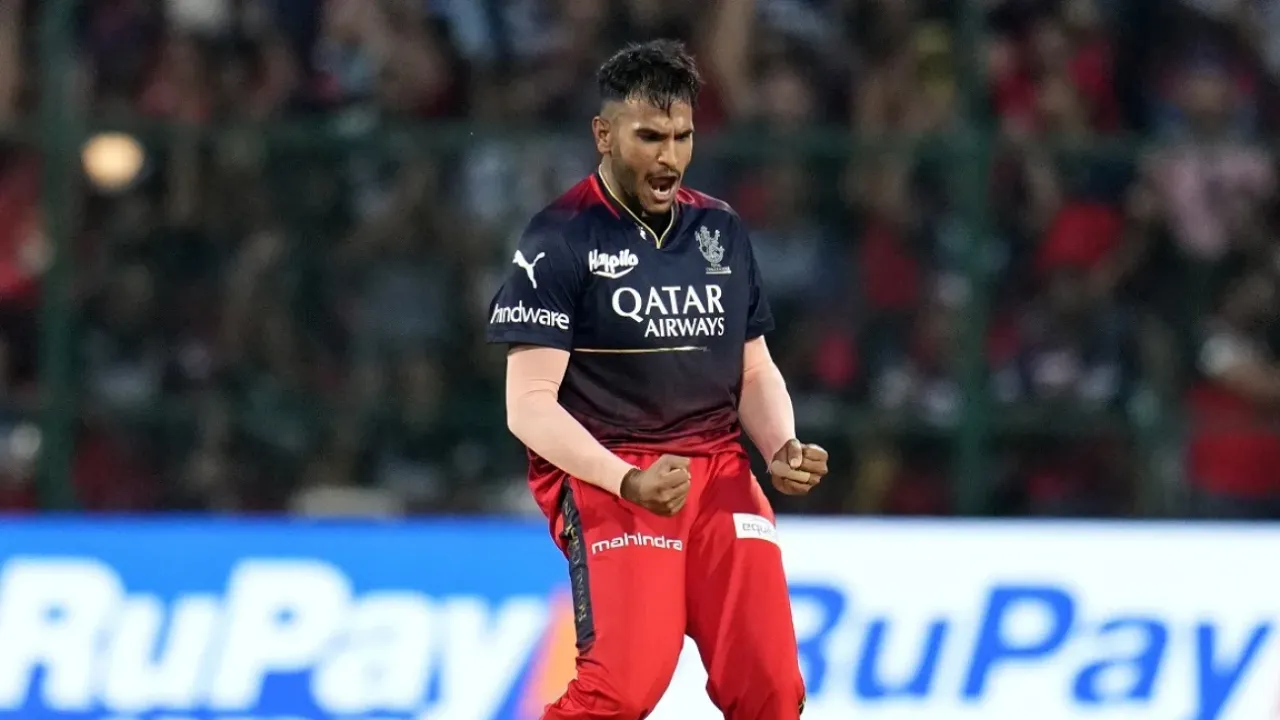 Personal Information

  Full Name

Vijaykumar Vyshak

  Date of Birth

January 31st, 1997

  Current Team

Royal Challengers Bangalore (RCB)

  Role

Bowler

  Bowling Style

Right Arm Medium

  Batting Style

Right Hand Bat

Vijaykumar Vyshak, a name that has been making waves in the cricketing world, is a promising Indian cricketer who has quickly gained recognition for his skills as a right-arm medium bowler. Having made his debut in the prestigious Indian Premier League (IPL) in 2023 with the Royal Challengers Bangalore (RCB) team, Vyshak has proven to be a valuable addition to the squad.
Background and Early Career
Born on January 31st, 1997, in Bangalore, Vyshak's passion for cricket began at a young age. He honed his skills through rigorous training and hard work, which eventually led him to make his mark in the domestic cricket scene.
Early Cricket Journey
Vyshak's journey in professional cricket began with his debut in List A cricket in February 2021. Representing Karnataka in the Vijay Hazare Trophy, he showcased his skills and made a strong impression on the cricketing fraternity. Following this, he made his Twenty20 debut in November 2021 during the Syed Mushtaq Ali Trophy.
List A Debut
Vyshak's List A debut was a memorable one, as he displayed his ability to take wickets and control the game with his medium-paced bowling. His performance in this format further solidified his position as a promising talent.
Twenty20 Debut
The Syed Mushtaq Ali Trophy served as the platform for Vyshak's Twenty20 debut. His skills were on full display as he contributed to his team's success and made a name for himself as a talented bowler.
First-Class Match
On February 17th, 2022, Vyshak played his first first-class match for Karnataka in the 2021-22 Ranji Trophy. This was a significant milestone in his career, as it allowed him to showcase his abilities in the longer format of the game.
Joining Royal Challengers Bangalore
After impressing with his performances in domestic cricket, Vyshak's talent was acknowledged by the Royal Challengers Bangalore. In April 2023, he was signed by the team, which provided him with an incredible opportunity to test his skills at the highest level of cricket.
IPL Debut
Vyshak's IPL debut came against the Delhi Capitals on April 15th, 2023. This was a momentous occasion for the young cricketer, as he showcased his talent and made an immediate impact by taking three wickets. The Royal Challengers Bangalore emerged victorious in the match, winning by 23 runs.
Impressive Performance
Vyshak's performance in his first IPL match was a testament to his skill and potential. His ability to take wickets and contribute to the team's success showcased his value as a player. Let's take a look at some of the highlights from his debut match.
First IPL Match
In his first IPL match, Vyshak displayed his bowling prowess by taking three crucial wickets. His ability to generate movement off the pitch and maintain accuracy made him a formidable opponent for the Delhi Capitals.
Vyshak's bowling statistics illustrate his effectiveness as a bowler across different formats of the game. Let's take a closer look at his performance in each format:


  Vyshak's Bowling Stats
  Format
Mat
Inns
Balls
Runs
Wkts
Avg
Eco
SR
4w
5w
10w

  FC

10
20
1748
926
38
24.36
3.17
46.0
2
1
0

  LIST A

7
7
350
346
11
31.45
5.93
31.8
2
0
0

  T20

21
21
450
606
31
19.54
8.08
14.5
0
0
0