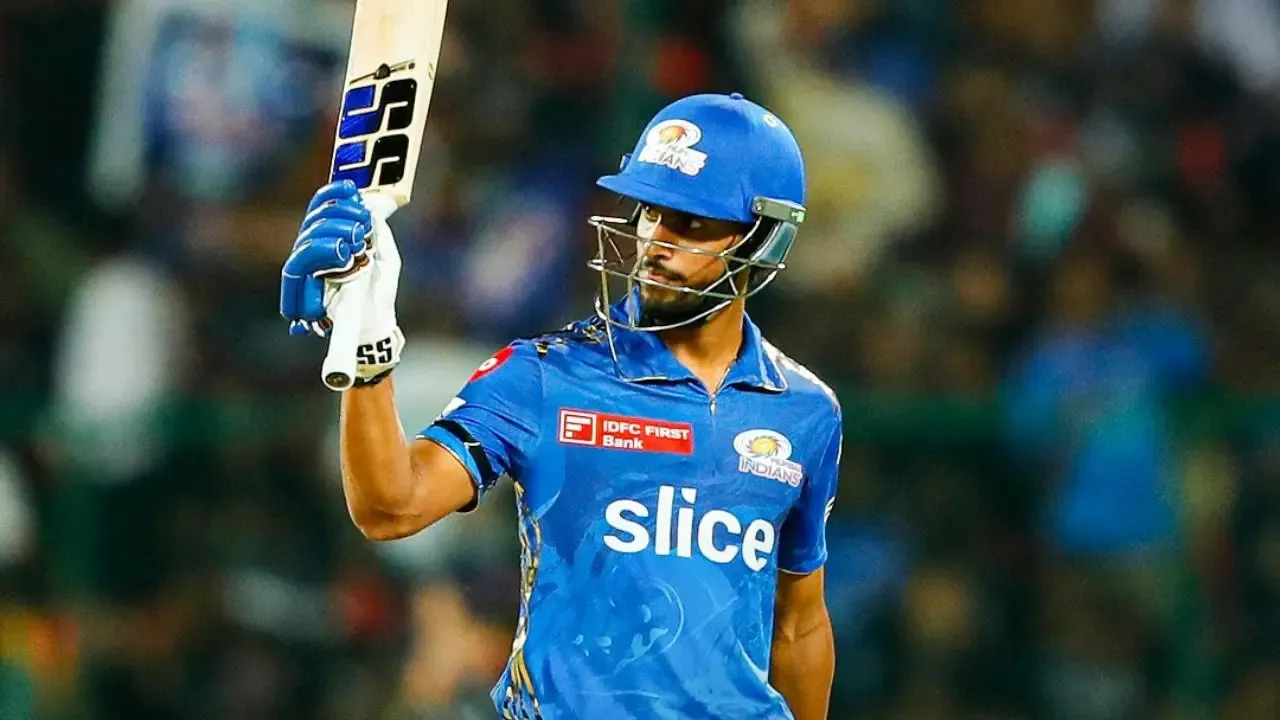 Personal Information

  Full Name

Tilak Varma

  Date of Birth

September 8th, 2002

  Current Team(s)

Mumbai Indians

Indian Cricket Team

  Role

Batting Allrounder

  Batting Style

Left Hand Bat

  Bowling Style

Left Arm Offbreak

  Debut

February 28, 2019

  Jersey No.

9

Tilak Varma, a talented cricketer from India, has been making waves in both domestic and IPL matches. This left-handed batting allrounder, known for his impressive skills and versatility, represents Hyderabad in domestic games and the Mumbai Indians in the IPL. In this article, we will delve into Tilak Varma's background, career highlights, and his contributions to the game.
Early Life and Background
Born on September 8th, 2002, in Hyderabad, Tilak Varma showed a natural affinity for cricket from an early age. He honed his skills and developed a passion for the game, which laid the foundation for his future success.
Career Beginnings
Tilak Varma's journey in professional cricket began during the 2018-19 Ranji Season when he made his first-class debut representing Hyderabad. This marked his entry into the competitive world of cricket, where he showcased his talent and potential as a rising star.
Domestic Performances
In the Syed Mushtaq Ali Trophy, Tilak Varma made his T20 debut, leaving a lasting impression with his batting prowess. He later made his List A debut in the Vijay Hazare Trophy, where he displayed his ability to score big runs. In one particular match, he scored an impressive 215 runs, solidifying his position as a formidable batsman.
During the 2021-22 Vijay Hazare Trophy, Tilak Varma continued to make significant contributions to his team's success. Across five games, he amassed a total of 180 runs, showcasing his consistency and determination. Additionally, he also proved his worth as a bowler, taking four crucial wickets.
IPL Journey
Recognizing Tilak Varma's talent and potential, the Mumbai Indians acquired him for a sum of ₹1.7 Cr ahead of the IPL Season 2022. This opportunity allowed Tilak to showcase his skills on a grand stage and learn from some of the best players in the world.
Batting Style
Tilak Varma's left-handed batting style sets him apart from many other cricketers. His ability to read the game, play dynamic shots, and build strong partnerships makes him a valuable asset to any team. His technique and composure at the crease have earned him praise from cricket enthusiasts and experts alike.
Future Prospects
At such a young age, Tilak Varma has already made a mark in the cricketing world. With his talent, dedication, and continuous improvement, he has the potential to become a vital player in the Indian Cricket Team. As he gains more experience and exposure, he will undoubtedly contribute to the team's success in future international tournaments.
Career Stats
Here is a summary of Tilak Varma's batting achievements in different formats of cricket:


 

Tilak's Batting Stats

  Format
Mat
Inns
NO
Runs
HS
Avg
BF
SR
100s
50s
4s
6s

  T20I

1
1
0
39
39
39.00
22
177.27
0
0
2
3

  FC

9
15
1
523
121
37.35
950
55.05
1
2
51
15

  LIST A

25
25
3
1236
156*
56.18
1216
101.64
5
5
95
48

  T20

48
47
8
1457
84*
37.35
1017
143.26
0
10
108
72

Conclusion
Tilak Varma's journey in cricket is testament to his hard work, determination, and natural talent. As a batting allrounder, he has shown exceptional skills with the bat and ball, making him a valuable asset to any team he represents. With his young age and promising performances, Tilak Varma is poised to make a significant impact on Indian cricket in the coming years. Cricket enthusiasts eagerly await his continued growth and success on both domestic and international stages.