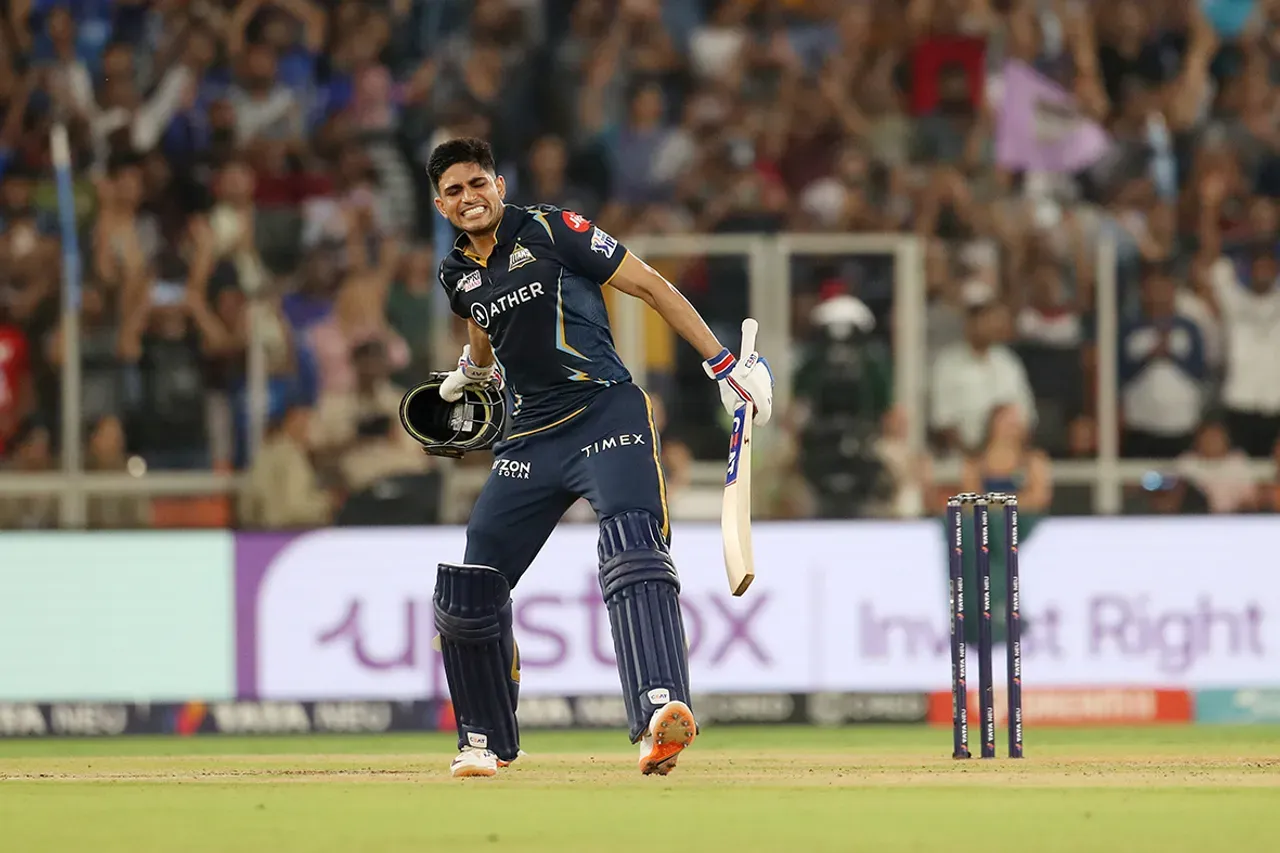 Personal Information

  Full Name

Shubman Gill

  Date of Birth

September 8th, 1999

 

Current Team(s)

Indian Cricket Team

Gujarat Titans (GT)




  Role

Opening Batter/

Middle Order Batter

  Batting Style

Right Arm Bat

  Bowling Style

Right Arm Offbreak

  Debut

January 31st, 2019

  World Cup Debut

Oct 14th, 2023

  Jersey No. 

77

Shubman Gill, the young and talented cricketer from Punjab, has made a significant impact in the world of cricket with his exceptional batting skills. Born on September 8th, 1999, Gill has quickly risen through the ranks to become one of India's most promising cricket stars. With his unwavering focus and determination, Gill has proven himself as a formidable opening batter and has already achieved several milestones in his career. In this article, we will explore the journey of Shubman Gill, his rise to fame, and his remarkable achievements in the world of cricket.


Early Life and Background

Shubman Gill was born in Fazilka, Punjab to Lakhwinder Singh and Keart Singh. Coming from a farming background, Gill's passion for cricket was nurtured by his father, who built a cricket ground on their farm for him to practice. Recognizing his son's talent and dedication, Gill's father made the decision to leave farming and move to Mohali to support his dream of becoming a professional cricketer. Gill was enrolled in the Punjab Cricket Association's Academy, where he honed his skills and developed his passion for the game.


Rise through the Ranks
Gill's journey to cricketing stardom began when he started playing for Punjab's Under-16 cricket team. He made an impressive debut in the Vijay Merchant Trophy, scoring a double century that caught the attention of cricket enthusiasts and selectors alike. In the Inter-District Under-16 competition in 2014, Gill showcased his talent by scoring 351 runs for Punjab. His consistent performances earned him recognition from the Board of Control for Cricket in India (BCCI), who awarded him the title of the best junior cricketer for two consecutive years.


Domestic and International Success
Gill made his first-class debut for Punjab during the 2017-18 Ranji Trophy season, and he didn't disappoint. In just his second match, he scored a century, marking the beginning of a successful domestic career. His impressive performances caught the attention of the Kolkata Knight Riders (KKR), who purchased him during the IPL Auction. Gill made his T20 debut for KKR and proved his worth with his exceptional batting skills.


In 2018, Gill was selected as the Vice-Captain for the Indian U-19 Cricket World Cup team. He played a crucial role in India's success in the tournament and was named the Player of the Tournament for his outstanding performance. Gill's ability to score big runs and his composure under pressure impressed cricket enthusiasts and experts alike.
Gill's success continued as he made his Test debut in December 2020 against Australia. He showcased his talent and determination by scoring crucial runs in challenging conditions. In January 2023, he made his Twenty20 International debut against Sri Lanka, becoming the youngest Indian batsman to achieve this milestone. Gill's exceptional performance in international cricket has established him as a rising star in Indian cricket.


IPL Success and Record-breaking Performances
Gill's remarkable performances in the Indian Premier League (IPL) have further solidified his place as one of the most promising young talents in the game. In the IPL 2023, Gill achieved a remarkable feat by scoring his maiden IPL century against Sunrisers Hyderabad (SRH). His innings of 101 runs off just 58 balls showcased his ability to dominate the opposition with his aggressive batting style.
Gill's outstanding form continued as he scored another century, this time against Royal Challengers Bangalore (RCB). His innings of 104 runs off 52 balls included five boundaries and eight powerful sixes, leaving the cricketing world in awe of his talent. These performances earned him the prestigious Emerging Player of the Tournament Award, further cementing his position as a star performer in the IPL.
Shubman Gill created history by breaching the 800-run mark in the IPL 2023 Qualifier 2 clash against Mumbai Indians. He became the second Indian and fourth overall player to achieve this feat. Along with this, Shubman Gill also recorded his third century of the season, becoming only the second Indian Cricketer to score three or more tons in an IPL season. On Friday, May 26th, 2023, Shubman Gill continued his brilliant performance in the Qualifier Two match between Gujarat Titans (GT) and Mumbai Indians (MI) and secured the prestigious Orange Cap.


Record-breaking Feats
Shubman Gill's journey has been filled with record-breaking feats and exceptional achievements. In the Youth ODI series against England, Gill's outstanding batting prowess earned him a place in the national U-19 side. He scored 351 runs in just four innings and was named the man of the series. The International Cricket Council (ICC) recognized him as the rising star of the squad, highlighting his immense potential and talent.
In August 2019, Gill created history by becoming the youngest Indian batsman to score a double century in a first-class match. His innings of 204 runs showcased his ability to perform under pressure and set new benchmarks for young cricketers. Gill's incredible talent and determination have also seen him become the fifth Indian batsman to hit a double century in ODIs, further cementing his place among the cricketing greats.
Shubman Gill showcased his remarkable batting abilities in the Asia Cup 2023 Super Fours game against Bangladesh. Despite the challenge of pursuing a target of 266 runs, Gill maintained his composure and remained calm. His fifth ODI century arrived at a crucial moment and had a significant impact on India's performance. Gill's impressive innings consisted of 121 runs from 133 deliveries, featuring 8 boundaries and 5 sixes. He completely dominated the Bangladeshi bowlers, especially the spinners, throughout the match.


Career Stats: Impressive Batting Stats
Shubman Gill's impressive batting stats reflect his consistency and ability to score big runs across different formats of the game. Let's take a look at his career statistics:



  Shubman's Batting Stats
  Format
Mat
Inns
NO
Runs
HS
Avg
BF
SR
100s
50s
4s
6s

  Test

18
33
3
966
128
32.20
1638
58.97
2
4
112
13

  ODI

33
33
6
1739
208
64.40
1704
102.05
5
8
201
34

  T20I

11
11
1
304
126*
30.40
207
146.85
1
1
24
16

  FC

45
77
8
3508
268
50.84
5072
69.16
10
16
419
47

  LIST A

88
87
12
4003
208
53.37
4255
94.07
11
19
430
75

  T20

123
120
18
 3771
129
36.97
2773
135.98
5
22
365
122
 

Conclusion
Shubman Gill's journey from a small town in Punjab to becoming one of India's most promising cricket stars is truly inspiring. His talent, dedication, and unwavering focus have propelled him to achieve remarkable success at a young age. Gill's exceptional performances in domestic and international cricket, as well as the IPL, have firmly established him as a rising star in Indian cricket. With his impressive batting skills, record-breaking feats, and remarkable consistency, Shubman Gill is undoubtedly a player to watch out for in the years to come. As he continues to grow and evolve as a cricketer, Gill has the potential to become one of the all-time greats of the game.