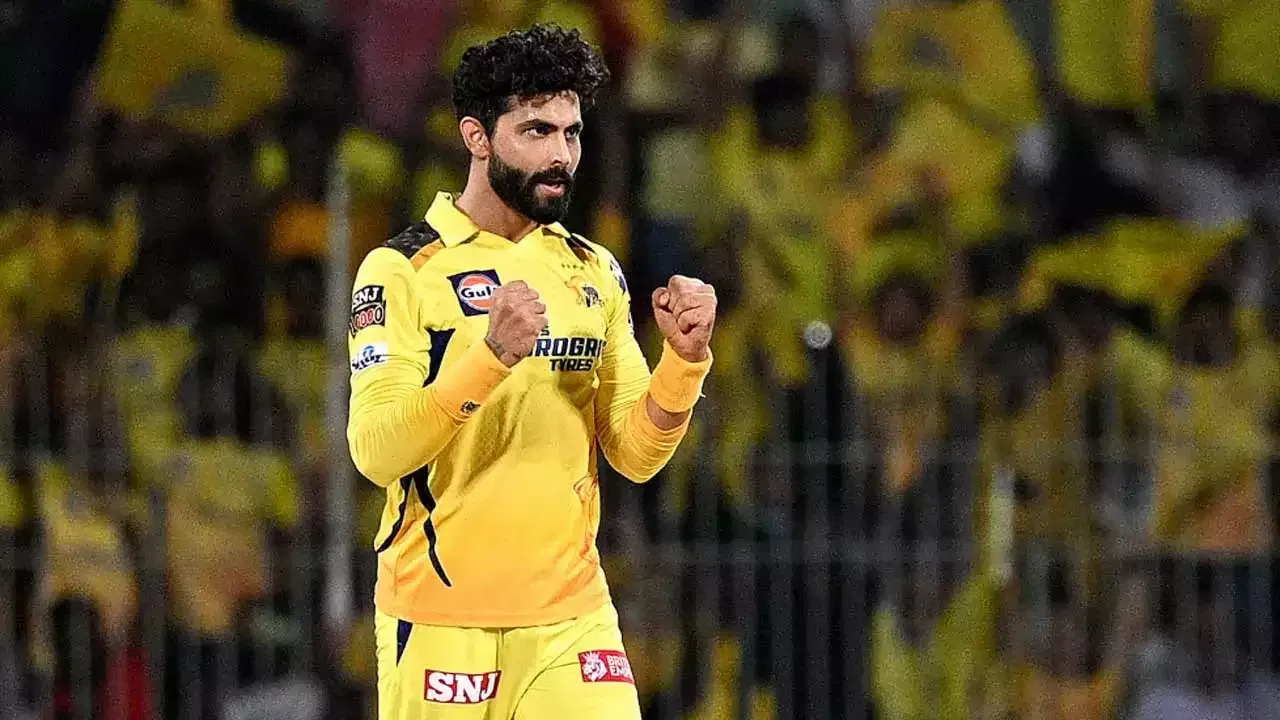 Personal Information

  Full Name

Ravindrasinh Anirudhsinh Jadeja

  Date of Birth

December 6th, 1988

  Current Team(s)

Chennai Super Kings (CSK)

Indian Cricket Team

  Role

Allrounder

  Batting Style

Left Hand Bat

  Bowling Style

Slow Left Arm Orthodox

  Debut

February 8th, 2009

  Jersey No.

8

Ravindrasinh Anirudhsinh Jadeja, commonly known as Ravindra Jadeja, is an Indian cricketer who has made a significant impact in the world of cricket with his exceptional all-round skills. Born on December 6th, 1988, in Navagam Ghed, Jamnagar, Gujarat, Jadeja has risen to prominence as a versatile player who excels in both batting and bowling. With his left-handed batting style and slow left-arm orthodox bowling, Jadeja has become a force to be reckoned with in international cricket.
Early Life and Personal Information
Ravindra Jadeja was born into a Gujarati Rajput family to Anirudh and Lata. His father worked as a watchman for a private security agency. Tragically, Jadeja lost his mother in 2005, which nearly led him to quit cricket. However, he found solace in the sport and continued to pursue his passion. Jadeja has a sister who works as a nurse, and their close-knit family has been a source of support throughout his career.
Early Career and Rise to Prominence
Jadeja's journey in cricket began at a young age when he made his debut in the U-19 cricket team at just 16 years old. His talent and determination paved the way for his entry into domestic cricket, representing teams like West Zone in the Duleep Trophy and Saurashtra in the Ranji Trophy. In 2006, he was selected for the Indian squad for the U-19 World Cup held in Sri Lanka, where he showcased his skills by taking 3 wickets against Pakistan.
One of the defining moments in Jadeja's early career came in November 2011 when he scored an impressive 314 runs in 375 balls while playing against Orissa. This remarkable achievement was followed by two more triple centuries in December 2012, making him the first Indian cricketer to achieve this feat. These performances caught the attention of international selectors and earned him a spot in the Indian team.
International Debut and Early Success
Jadeja made his international debut on February 8th, 2009, in the ODI series against Sri Lanka. In his debut match, he scored 60 runs and showcased his all-round abilities. He continued to impress with his consistent performances, especially in the bowling department. Notably, in the third ODI against Sri Lanka on December 21st, 2009, Jadeja took 4 wickets for just 32 runs, earning him the well-deserved Man of the Match title.
Over the years, Jadeja's performances in both ODIs and Tests have been noteworthy. His ability to contribute with both bat and ball has made him a valuable asset to the Indian cricket team. In Test matches, Jadeja has scored over 2600 runs and taken 264 wickets, showcasing his versatility as an all-rounder. He has also been a consistent performer in ODIs, scoring over 2500 runs and taking 191 wickets.
Rise to Prominence in Test Cricket
Jadeja's prowess in Test cricket was evident during the 2012-13 series against Australia. In this series, he took an impressive 24 wickets, playing a crucial role in India's 4-0 victory. This exceptional performance propelled him to the top spot in ICC's rankings for ODI bowlers in August 2013. Jadeja's consistency and skill in Test cricket have established him as one of the finest all-rounders in the world.
In addition to his bowling prowess, Jadeja has also made significant contributions with the bat. He has scored three centuries in Test cricket, with a highest score of 175 not out against Sri Lanka in 2022. This innings showcased his ability to dominate the opposition and play crucial innings when the team needed it the most.
Impact in Limited Overs Cricket
Jadeja's impact extends beyond Test cricket. He has been a consistent performer in limited-overs cricket as well, especially in ODIs. His left-arm spin has proven to be effective in containing the opposition's batting lineup and taking crucial wickets. Jadeja has also played a vital role with the bat, scoring crucial runs in the lower middle order.
In the 2019 World Cup, Jadeja played a crucial role in India's campaign, particularly in the semi-final against New Zealand. He scored 77 runs off just 59 balls, almost guiding India to victory. Despite India's loss, Jadeja's performance was highly praised, showcasing his ability to perform under pressure.
IPL Success and Stint with Chennai Super Kings
Jadeja's impact in the Indian Premier League (IPL) has been significant. He began his IPL journey with the Rajasthan Royals in 2008 and played a crucial role in their victory in the inaugural season. His consistent performances with both bat and ball earned him the nickname "Rockstar" from his captain, Shane Warne.
In 2012, Jadeja was bought by the Chennai Super Kings (CSK) for a staggering price, making him the most expensive player in that year's auction. Since then, he has been an integral part of the CSK team and has contributed to their success in the tournament. In 2022, he took over as the captain of CSK but later handed back the captaincy to M.S. Dhoni due to injury.
Awards and Accolades
Jadeja's performances have been recognized with various awards and accolades. He was awarded the Madhavrao Scindia Award for taking the most wickets in the Ranji Trophy in 2008-09. In 2019, he received the prestigious Arjuna Award for his outstanding contributions to Indian cricket. Jadeja has also achieved the top spot in the ICC's Top 10 Test all-rounders ranking in 2021, a testament to his consistency and skill.
Career Stats
Ravindra Jadeja boasts an impressive array of achievements. Now, let's explore the records he has set in different formats of the game:


 

Jadeja's Batting Stats

  Format
Mat
Inns
NO
Runs
HS
Avg
BF
SR
100s
50s
4s
6s

  Test

64
94
20
2658
175
35.91
4628
57.43
3
18
268
56

  ODI

174
118
41
2526
87
32.80
2969
85.07
0
13
186
50

  T20I

64
34
15
457
46
24.05
367
124.52
0
0
34
12

  FC

119
176
28
6754
331
45.63
11479
58.83
12
35
710
115

  LIST A

227
162
53
3575
134
32.79
4127
86.62
2
18
262
77

  T20

308
220
89
3359
62
25.64
2599
129.24
0
2
244
121
 

Jadeja's 

Bowling Stats

  Format
Mat
Inns
Balls
Runs
Wkts
Avg
Eco
SR
4w
5w
10w

  Test

64
122
15718
6395
264
24.22
2.44
59.5
12
12
2

  ODI

174
168
8725
7142
191
37.39
4.91
45.6
7
1
0

  T20I

64
62
1237
1453
51
28.49
7.04
24.2
0
0
0

  FC

119
215
28023
11541
483
23.89
2.47
58.0
22
31
8

  LIST A

227
216
11100
8833
252
35.05
4.77
44.0
10
1
0

  T20

308
277
5074
6399
214
29.90
7.56
23.7
3
1
0

Conclusion
Ravindra Jadeja has proven to be a dynamic all-rounder who has made a significant impact in international cricket. With his exceptional skills in both batting and bowling, he has played a crucial role in India's success in various formats of the game. Jadeja's ability to contribute in all aspects of the game, coupled with his determination and passion, make him a valuable asset to the Indian cricket team. As he continues to excel and achieve new milestones, his presence on the field is undoubtedly a force to be reckoned with.