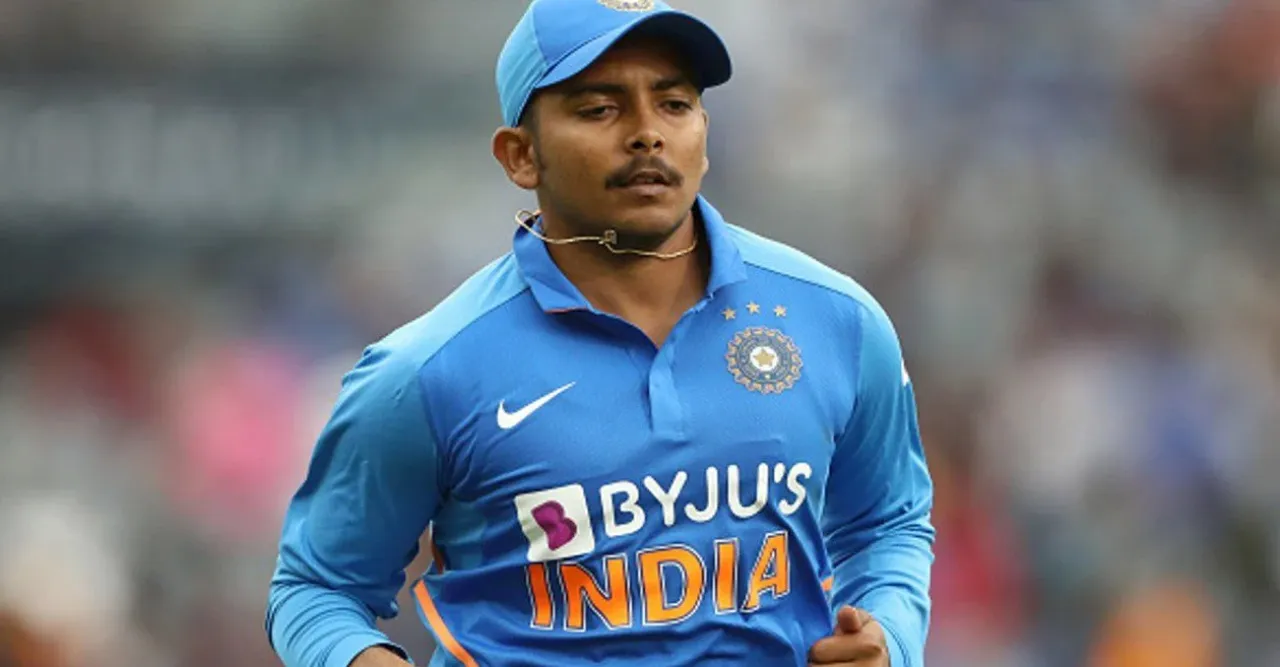 Personal Information

  Full Name

Prithvi Pankaj Shaw

  Date of Birth

November 9th, 1999

  Current Team(s)

Delhi Capitals (DC)

  Role

Opening Batter

  Batting Style

Right Hand Bat

  Bowling Style

Right Arm Offbreak
Prithvi Shaw, a young and talented cricketer, has taken the Indian cricket scene by storm. With his aggressive batting style and remarkable achievements at such a young age, Shaw has become a household name among cricket enthusiasts. In this article, we will delve into the journey of Prithvi Shaw, from his early days to his rise as one of India's promising opening batters.
Early Life and Introduction to Cricket
Prithvi Pankaj Shaw was born on November 9th, 1999, in Thane, Maharashtra. At the age of 14, he made headlines with a remarkable performance in the Harris Shield tournament in Mumbai. Representing his school team, Rizvi Springfield, Shaw scored a jaw-dropping 546 runs off 330 balls. This astonishing innings, which included 85 fours and five sixes, set a new record for the highest score in school cricket at the time. It was evident that a prodigious talent had emerged in the cricketing world.
Making Strides in Domestic Cricket
Shaw's exceptional performances did not go unnoticed, and in November 2016, he got the opportunity to represent India's Under-19 cricket team. He played a crucial role in helping them clinch the youth Asia Cup in Sri Lanka. Just a few months later, Shaw made his debut in the Ranji Trophy for Mumbai during the semi-final game against Tamil Nadu. In that match, he showcased his immense potential by scoring a century in the second innings, contributing significantly to Mumbai's victory.
Continuing his impressive form, Shaw played his first List A match for Mumbai in the Vijay Hazare Trophy in February 2017. Later that year, he achieved another milestone by scoring consecutive centuries in the Ranji Trophy. These consistent performances earned him recognition as one of the most promising young talents in Indian cricket.
Breaking Records and Captaining the Under-19 World Cup Squad
Shaw's journey was filled with records and accolades. In September 2017, he made history by scoring a century on his Duleep Trophy debut, becoming the youngest player to achieve this feat. This record was previously held by none other than the legendary Sachin Tendulkar. Shaw's remarkable skills and leadership qualities led to his appointment as the captain of India's Under-19 World Cup squad. Under his captaincy, the team performed exceptionally well and emerged as champions of the tournament.
IPL Debut and Rising Stardom
The Indian Premier League (IPL) has always been a platform for young talents to showcase their skills and gain exposure. In 2018, Shaw was bought by the Delhi Daredevils (now Delhi Capitals) for INR 1.2 crore, making him one of the most expensive uncapped players in the history of the IPL. At the age of 18, he made history yet again by becoming the youngest player to open the batting in the IPL. In his debut match, Shaw displayed his aggressive batting style by scoring 22 runs off just 10 balls, leaving a lasting impression on the cricketing fraternity.
Shaw's journey in the IPL continued to flourish. In April 2019, he achieved another remarkable feat by hitting six boundaries in an over, becoming the second player after Ajinkya Rahane to do so. These performances solidified his position as a rising star in Indian cricket and garnered him a significant fan following.
International Debut and Milestones
Shaw's consistent performances in domestic cricket eventually earned him a call-up to the Indian national team. In October 2018, he made his Test debut against West Indies and made an immediate impact by scoring a century. At the age of 18 years and 329 days, he became the youngest Indian cricketer to achieve this milestone in Test cricket. Shaw's impressive technique and composure at such a young age left cricket pundits in awe.
After making a mark in Test cricket, Shaw received his opportunity in the limited-overs format. He made his One Day International (ODI) debut against New Zealand in February 2020, followed by his first Twenty20 International (T20I) appearance against Sri Lanka in June 2021. With his aggressive batting style and solid technique, Shaw has the potential to become a key player in all formats of the game for India.
Key Achievements and Future Prospects
Prithvi Shaw's journey in cricket has been nothing short of extraordinary. From his record-breaking performances at the school level to his exceptional achievements in domestic cricket, Shaw has proven his mettle time and again. His aggressive batting style and ability to score runs quickly make him a valuable asset in any team.
As Shaw continues to evolve as a cricketer, he faces new challenges and opportunities. With his immense talent and hunger for success, there is no doubt that he has the potential to achieve even greater heights in his career. As he gains more experience and refines his skills, Shaw could become a vital cog in the Indian cricket team's batting lineup for years to come.
Career Stats:

 

Vijay's Batting Stats

  Format
Mat
Inns
NO
Runs
HS
Avg
BF
SR
100s
50s
4s
6s

  Test

5
9
1
339
134
42.37
394
86.04
1
2
48
2

  ODI

6
6
0
189
49
31.50
166
113.85
0
0
32
2

  T20I

1
1
0
0
0
0.00
1
0.00
0
0
0
0

  FC

44
78
2
3802
379
50.02
4582
82.97
12
16
521
46

  LIST A

57
57
4
3056
244
57.66
2412
126.69
10
11
412
84

  T20

100
100
1
2507
134
25.32
1668
150.29
1
19
287
106

Conclusion
Prithvi Shaw's journey from a young prodigy to an established cricketer is a testament to his talent, dedication, and hard work. His remarkable performances in domestic cricket, coupled with his record-breaking feats in international cricket, have elevated him to the status of a rising star in Indian cricket. With his aggressive batting approach, Shaw has the potential to become a force to be reckoned with in the cricketing world. As he continues to grow and mature as a player, cricket enthusiasts eagerly await his future endeavors on the field. Prithvi Shaw is undoubtedly a name that will continue to shine bright in Indian cricket for years to come.