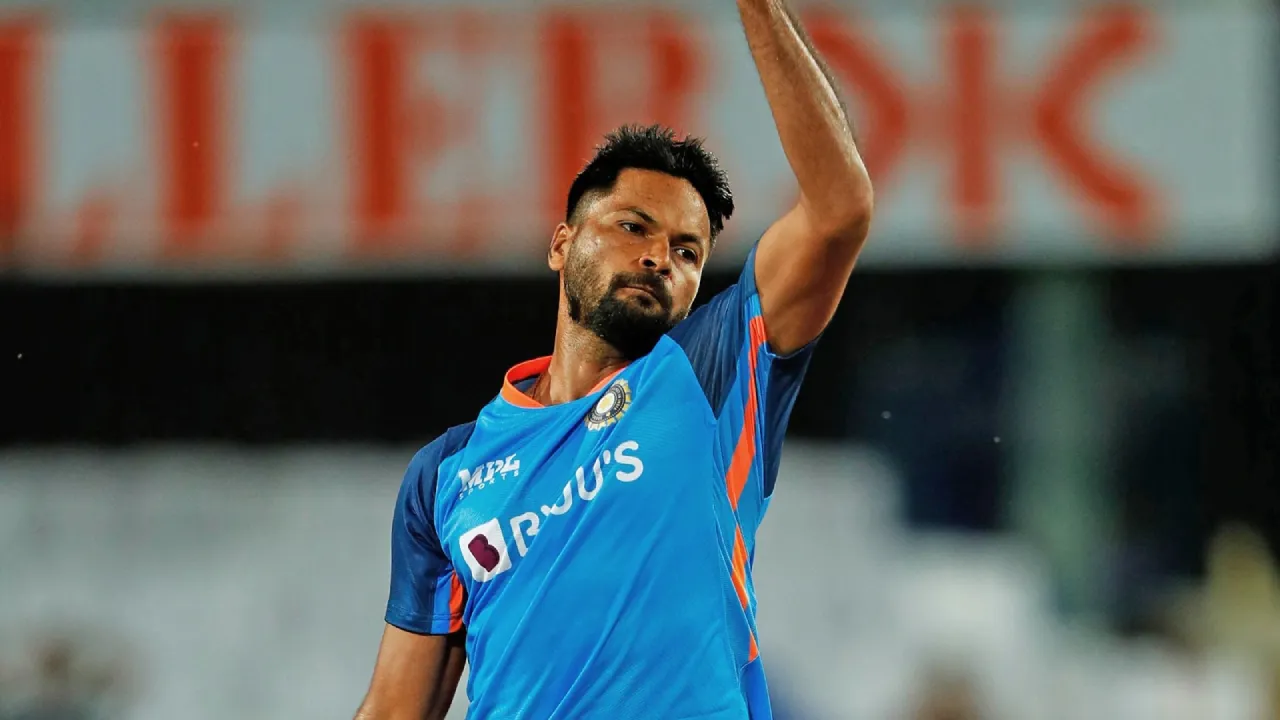 Personal Information

  Full Name

Mukesh Kumar

  Date of Birth

October 12th, 1993

  Current Team(s)

Delhi Capitals (DC)

Indian Cricket Team

  Role

Bowler

  Batting Style

Right Hand Bat

  Bowling Style

Right Arm Medium

  Debut

December 6th, 2015

  Jersey No.

49
Mukesh Kumar, the talented cricketer from India, has been making waves in the world of cricket with his exceptional bowling skills. Born on October 12th, 1993, in Bihar, Mukesh has been a prominent figure in the Bengal cricket team and has also earned a place in the Indian Cricket Team. With his right-hand batting style and right-arm medium pace bowling, Mukesh has become a force to reckon with in the cricketing world.
Early Life and Cricketing Journey
Mukesh Kumar's journey in cricket began when he participated in the 'Pratibha ki Khoj' trial organized by the Gopalganj district of Bihar in 2008. His outstanding performance, taking 34 wickets in seven matches, caught the attention of selectors and paved the way for his entry into the world of professional cricket.
In 2010, Mukesh represented Bihar U-19 in the Associate & Affiliate Tournament organized by the BCCI. This was a significant milestone in his career, as it provided him with exposure and an opportunity to showcase his skills at a higher level. His dedication and hard work paid off when he made his first-class debut in the Ranji Trophy in October 2015, where he took an impressive 20 wickets in nine innings.
Rise to Prominence
Mukesh Kumar's talent didn't go unnoticed, and he soon caught the attention of cricket enthusiasts and selectors alike. In December 2015, he made his List A debut in the Vijay Hazare Trophy, further solidifying his position as a rising star in Indian cricket. His consistent performances and ability to take crucial wickets earned him recognition and respect from his peers and fans.
In January 2016, Mukesh made his T20 debut in the Syed Mushtaq Ali Trophy. His ability to adapt to different formats of the game and deliver impactful performances showcased his versatility as a cricketer. With each match, he continued to impress, proving that he was a force to be reckoned with on the cricket field.
The Call of the National Team
Mukesh Kumar's outstanding performances didn't go unnoticed by the selectors of the Indian Cricket Team. In September 2022, he received his first call-up to play for the national team against South Africa. This was a dream come true for Mukesh, and he grabbed the opportunity with both hands. His ability to consistently deliver accurate and impactful bowling performances earned him a place in the team and the respect of his teammates.
Shortly after his call-up to the national team, Mukesh also received his first call-up to play in the T20I series against Sri Lanka. This was another significant milestone in his career, as it showcased the faith and confidence the selectors had in his abilities. Mukesh grabbed this opportunity to make a mark and prove his worth at the international level.
Joining the Delhi Capitals
Mukesh Kumar's exceptional performances not only caught the attention of the national selectors but also attracted the interest of IPL teams. In 2022, the Delhi Capitals signed him for a whopping 5.5 Cr for the upcoming IPL season. This was a testament to his talent and potential as a cricketer. Joining the Delhi Capitals provided Mukesh with a platform to showcase his skills on a grand stage and compete against some of the best players in the world.
International Career
In June 2023, he was selected to represent India in all three formats for the India tour of West Indies. During the second Test Match against West Indies, he had the opportunity to play and he successfully took his first international wicket.
Bowling Stats
Mukesh Kumar's bowling statistics reflect his skill and impact on the game. Here is a breakdown of his performance in different formats:


 

Mukesh' Bowling Stats

  Format
Mat
Inns
Balls
Runs
Wkts
Avg
Eco
SR
4w
5w
10w

  Test

1
1
84
35
1
35.00
2.50
84.00
0
0
0

  FC

39
70
7120
3212
149
21.55
2.70
47.7
8
6
0

  LIST A

24
24
1144
974
26
37.46
5.10
44.0
0
0
0

  T20

33
33
679
918
32
28.68
8.11
21.2
0
0
0

Mukesh Kumar's consistent performances in different formats of the game demonstrate his ability to adapt and excel at the highest level. His impressive bowling stats reflect his impact on the game and his value as a bowler.
Conclusion
Mukesh Kumar's journey from Bihar to representing the Indian Cricket Team and playing for the Delhi Capitals in the IPL is a testament to his talent, hard work, and determination. With his right-hand batting style and right-arm medium pace bowling, he has become a formidable force in the world of cricket. His rise to prominence is a true inspiration for aspiring cricketers, and his performances on the field continue to captivate fans and selectors alike. As he continues to hone his skills and make his mark in the cricketing world, the future looks bright for this rising star of Indian cricket.