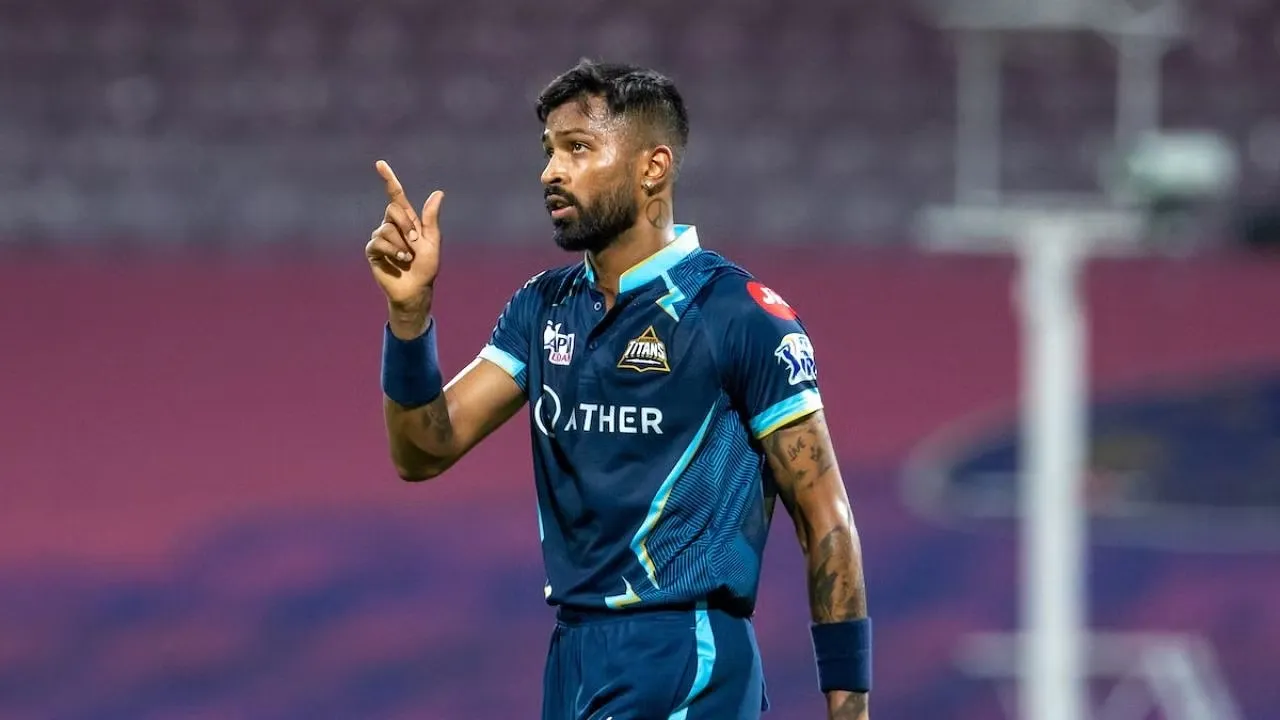 Personal Information

  Full Name

Hardik Pandya

  Date of Birth

October 11th, 1993

  Current Team(s)

Indian Cricket Team

Gujarat Titans (GT)

  Role

Allrounder

  Batting Style

Right Hand Bat

  Bowling Style

Right Arm Medium Fast

  Debut

January 26th, 2016

  Jersey No.

33
Hardik Pandya, popularly known as "Kung Fu Pandya," is a talented cricketer hailing from Surat, Gujarat. Hardik made a significant impact on the world of cricket with his explosive batting and valuable contributions as a fast-medium bowler. This article takes an in-depth look at Hardik Pandya's journey, from his early life and cricketing career to his remarkable achievements and current role as the captain of the Gujarat Titans. Join us as we explore the fascinating story of this dynamic allrounder.
Early Life and Cricketing Journey
Hardik Pandya was born on October 11th, 1993, in Surat, Gujarat, to Himanshu Pandya and Nalini Pandya. At the age of five, his family moved to Vadodara to provide him and his elder brother, Krunal Pandya, better cricketing opportunities. It was in Vadodara that Hardik's passion for cricket began to flourish.
Rise to Prominence
Hardik Pandya's rise to prominence began when he represented Baroda in the 2013-14 Syed Mushtaq Ali Trophy. His valuable contributions played a crucial role in Baroda's victory in the tournament. In the 2016 edition of the same tournament, Pandya showcased his true potential by scoring an unbeaten 86 runs, including eight sixes, to secure the trophy for his team.
International Debut
In 2016, Hardik Pandya made his T20 International debut against Australia at the age of 22. He impressed everyone with his performance, taking two wickets and showcasing his prowess with both bat and ball. Later that year, he made his ODI debut against New Zealand, becoming the player of the match and the fourth Indian cricketer to achieve this milestone in ODI cricket. During the group stages of the ICC Champions Trophy, Pandya made headlines by hitting three consecutive sixes.
Remarkable Achievements
Hardik Pandya's career is marked by several remarkable achievements. In a match against England in 2022, he achieved a rare feat of scoring 51 runs and taking four crucial wickets. This performance made him the first Indian cricketer to achieve a half-century and four wickets in a single T20I and ODI tournament. His versatility and ability to contribute in both batting and bowling make him a valuable asset to any team.
What is the nickname of Hardik Pandya?
Hardik Pandya well known as "Kung fu Pandya" as well as with "Hard Hitter Hardik".

IPL Career
Hardik Pandya has been a prominent figure in the Indian Premier League (IPL). He played for the Mumbai Indians from 2015 to 2021, contributing significantly to the team's success. In 2022, he was purchased by the Gujarat Titans and was appointed as the team's captain. Under his leadership, the Gujarat Titans clinched their first IPL title in 2022 and finished as the Runner-Up in the following year, 2023.
Career Stats:
As a batsman, Hardik Pandya has showcased his power-hitting skills and ability to accelerate the run-rate. Hardik Pandya's bowling skills have been instrumental in providing breakthroughs for his team. Let's take a look at his career statistics across various formats:
 

Hardik's Batting Stats

  Format
Mat
Inns
NO
Runs
HS
Avg
BF
SR
100s
50s
4s
6s

  Test

11
18
1
532
108
31.29
720
73.88
1
4
68
12

  ODI

74
55
7
1584
92
33.00
1414
112.02
0
9
121
60

  T20I

87
67
17
1271
71
25.42
894
142.17
0
3
92
65

  FC

29
46
1
1351
108
30.02
2382
56.71
1
10
167
24

  LIST A

95
73
12
1918
92
31.44
1806
106.20
0
11
141
69

  T20

239
208
61
4348
91
29.57
3113
139.67
0
17
317
225
 

Hardik's Bowling Stats

  Format
Mat
Inns
Balls
Runs
Wkts
Avg
Eco
SR
4w
5w
10w

  Test

11
19
937
528
17
31.05
3.38
55.1
0
1
0

  ODI

74
69
2896
2711
72
37.65
5.61
40.2
1
0
0

  T20I

87
76
1343
1824
69
26.43
8.14
19.4
3
0
0

  FC

29
39
2694
1486
48
30.95
3.30
56.1
0
3
0

  LIST A

95
83
3646
3314
88
37.65
5.45
41.4
1
0
0

  T20

239
185
3085
4183
148
28.26
8.13
20.8
3
0
0

Conclusion
Hardik Pandya's journey from a young boy with dreams of playing cricket to becoming a dynamic allrounder and captain of the Gujarat Titans is truly inspiring. His ability to contribute with both bat and ball has made him a valuable asset for the Indian cricket team and various franchises in the IPL. With his explosive batting, power-hitting skills, and ability to take crucial wickets, Hardik Pandya has carved a niche for himself in the world of cricket. As he continues to evolve and impress with his performances, cricket enthusiasts eagerly await the next chapter in his remarkable career.