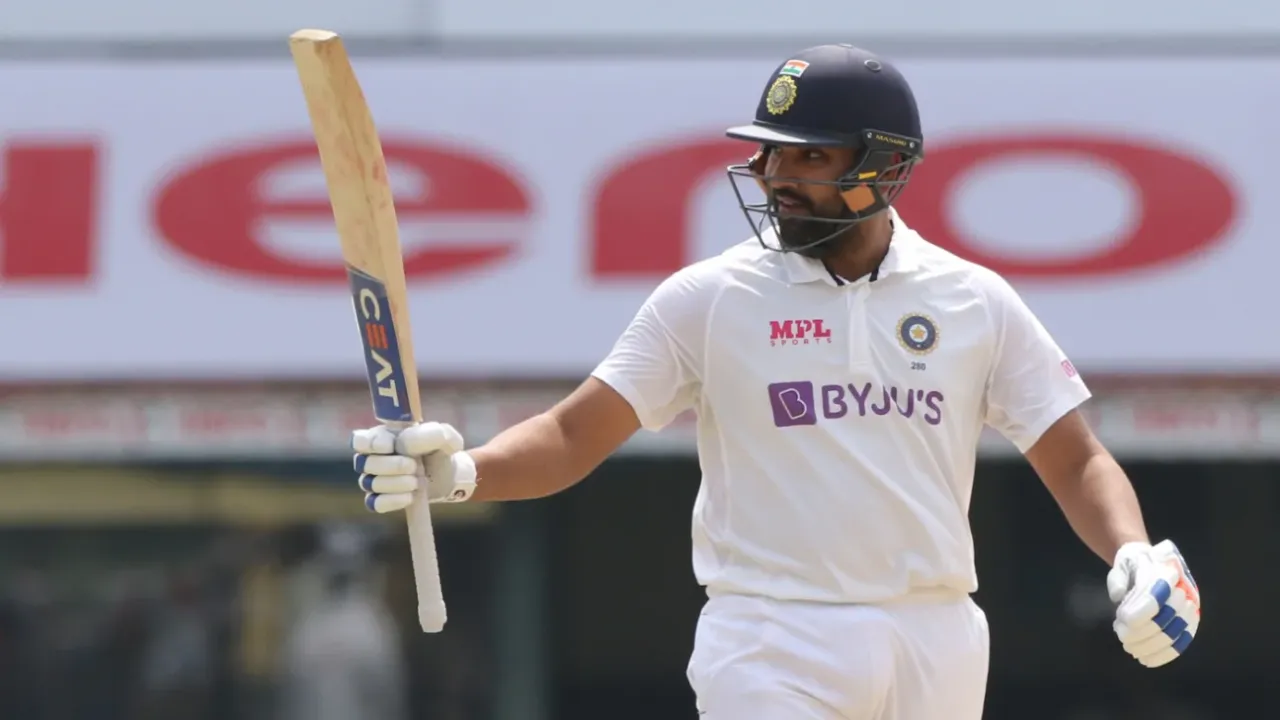 Personal Information

  Full Name

Rohit Gurunath Sharma

  Date of Birth

April 30th, 1987

  Current Team(s)

Indian Cricket Team
Mumbai Indians (MI)

  Role

Top Order Batter

  Batting Style

Right Hand Bat

  Bowling Style

Right Arm Offbreak

  Debut

June 23rd, 2007

  Jersey No.

45

Rohit Sharma, popularly known as the Hitman, is a renowned cricketer hailing from Bansod, Nagpur, Maharashtra. Born on 30th April 1987, Rohit Sharma's journey from humble beginnings to becoming one of the most celebrated batsmen in the world is nothing short of inspiring. Let's delve into the life and career of this cricket sensation.
Early Life and Struggles
Rohit Sharma's upbringing was marked by financial constraints. Due to his father's low income, he was brought up by his grandparents and uncle in Borivali. Meanwhile, his parents, Gurunath Sharma and Purnima Sharma, resided in Dombivli. Despite the distance, Rohit would visit his parents on weekends, maintaining a strong bond with them and his younger brother, Vishal Sharma.
In 1999, Rohit Sharma's talent caught the attention of his uncle, who helped him enroll in a Cricket Camp. It was there that he was discovered by coach Dinesh Lad, who recognized his potential as a batsman. Lad suggested that Rohit switch to Swami Vivekanand International School, where he coached and superior cricket facilities were available. However, financial constraints posed a challenge. Fortunately, Lad secured a scholarship for Rohit, allowing him to attend the school for four years without any financial burden. This became a turning point in Rohit's journey, as he honed his skills and flourished as a batsman under Lad's guidance.
Early Cricket Career
Rohit Sharma's early cricket career took off when he made his debut for West Zone in the Deodhar Trophy in March 2005. Batting at number eight, he showcased his potential by scoring an unbeaten 31 runs, helping his team secure a victory. His impressive performance continued in the same tournament, where he scored a remarkable 142 runs in 123 balls against North Zone in Udaipur. These performances earned him a place in the India A squad that toured Abu Dhabi and Australia.
Despite being named in India's probable 30-member squad for the ICC Champions Trophy, Rohit Sharma narrowly missed out on a spot in the final squad. However, he didn't let this setback dampen his spirits. In July 2006, he made his first-class debut for India A against New Zealand, scoring 57 runs and contributing to a victory. Subsequently, he debuted in the Ranji Trophy for Mumbai in the 2006-07 season, where he made a powerful statement by scoring an impressive 205 runs off 267 balls against Gujarat.
Test Match Heroics
Rohit Sharma's Test cricket journey began in November 2013 when he made his debut against West Indies. He immediately made an impact by scoring 177 runs in the first match held at Eden Gardens, Kolkata. In the second test match held at Wankhade Stadium, Mumbai, he continued his stellar performance with an unbeaten 111 runs. Despite facing a temporary exclusion from Test matches in the 2017-18 season, Rohit made a strong comeback for the Australia tour in 2018-19. The Chief Selector, M.S.K Prasad, highlighted Rohit's natural game that suited the bouncy pitches of Australia. In the first Test match in Adelaide, he scored 37 runs before sustaining a minor injury. Although he missed the second Test match, he returned for the third Test in Melbourne and contributed an unbeaten 63 runs. In October 2019, Rohit Sharma achieved a significant milestone by scoring his first double century in Tests, a magnificent 212 runs, against South Africa in the third Test match.
Rohit's prowess in Test cricket continued to shine during the 2020 tour of Australia. He was appointed vice-captain of the Indian Test Team, replacing Cheteshwar Pujara. Unfortunately, he had to return to India after the Melbourne Test due to the birth of his daughter. Nonetheless, his contributions to the team were invaluable.
ODI and World Cup Success
Rohit Sharma made his One-Day International (ODI) debut on 23rd June 2007 against Ireland in Belfast. Although he didn't get a chance to bat in that match, he quickly proved his worth in the following games. On 18th November 2007, he scored his first ODI half-century against Pakistan in Jaipur, showcasing his batting prowess. His exceptional performance earned him a spot in the Common Wealth Bank Series 2007-08 in Australia, where he scored 235 runs, including two half-centuries.
In 2015, Rohit Sharma participated in his first Cricket World Cup tournament. Representing India in eight matches held in Australia, he played a crucial role in helping the team reach the semi-finals. Throughout the tournament, he scored a total of 330 runs, including a century, leaving a lasting impact on the global stage.
Rohit Sharma's remarkable contributions to the Indian cricket team led to his appointment as Vice-Captain for the 2019 World Cup in England. In the opening match against South Africa, he scored a magnificent century, becoming the fastest player to reach 12,000 runs in international cricket. He continued to shine throughout the tournament, scoring centuries against Pakistan, New Zealand, and Bangladesh. His century against Sri Lanka made him the first batsman to score five centuries in a single World Cup tournament, surpassing the legendary Sachin Tendulkar. With a total of 648 runs, Rohit Sharma won the prestigious ICC Golden Bat Award, solidifying his status as one of the world's finest batsmen.
IPL Success and Captaincy
Rohit Sharma's association with the Indian Premier League (IPL) began in 2008 when he was signed by the Deccan Chargers Franchise. The Hyderabad-based team acquired his services for a substantial amount of USD 750,000 per year. In 2011, Mumbai Indians purchased Rohit for a whopping USD 2 million. Since then, Rohit Sharma has been the captain of the Mumbai Indians, leading them to victory in multiple IPL tournaments, including 2013, 2015, 2017, 2019, and 2020. While his century count in the IPL is relatively low, he etched his name in history with a memorable unbeaten knock of 109 runs against the Kolkata Knight Riders.
Accolades and Recognitions
Rohit Sharma's contributions to the world of cricket have not gone unnoticed. In 2015, he was honored with the prestigious Arjuna Award, a testament to his exceptional skills and achievements on the field. Furthermore, in 2020, he received the Major Dhyan Chand Khel Ratna, the highest sporting honor in India. These accolades solidify Rohit Sharma's status as one of the most revered cricketers in the country.
Career Stats
Rohit Sharma has an impressive list of accomplishments. Let's explore the records he holds in various formats of the game:
Rohit's Batting Stats
  Format
Mat
Inns
NO
Runs
HS
Avg
BF
SR
100s
50s
4s
6s

  Test

52
88
9
3677
212
46.54
6534
56.27
10
16
394
77

  ODI

250
242
36
10031
264
48.69
11113
90.26
30
51
923
286

  T20I

148
140
17
3853
118
31.32
2767
139.24
4
29
348
182

  FC

113
179
18
8663
309*
53.80
-
-
27
36
-
-

  LIST A

321
309
44
12273
264
46.31
-
-
33
64
-
-

  T20

423
410
49
11035
118
30.56
8264
133.53
6
74
479
479
 

Rohit's 

Bowling Stats

  Format
Mat
Inns
Balls
Runs
Wkts
Avg
Eco
SR
4w
5w
10w

  Test

52
16
383
224
2
112.00
3.50
191.5
0
0
0

  ODI

250
38
593
515
8
64.37
5.21
74.1
0
0
0

  T20I

148
9
68
113
1
113.00
9.97
68.0
0
0
0

  FC

113
70
2153
1154
24
48.08
3.21
89.7
1
0
0

  LIST A

321
70
1367
1162
30
38.73
5.10
45.5
1
0
0

  T20

423
59
653
830
29
28.62
7.84
21.8
1
0
0

Conclusion
Rohit Sharma's journey from a small town in Maharashtra to becoming the Hitman of Indian cricket is a story of determination, talent, and hard work. Overcoming financial struggles, he grabbed every opportunity that came his way and carved a niche for himself in the cricketing world. With remarkable performances in Test matches, ODI tournaments, and the IPL, Rohit Sharma has become a force to be reckoned with. His accolades and records speak volumes about his contributions to the game. As he continues to shine on the cricket field, fans eagerly await the next mesmerizing innings from the Hitman himself.